Our Practice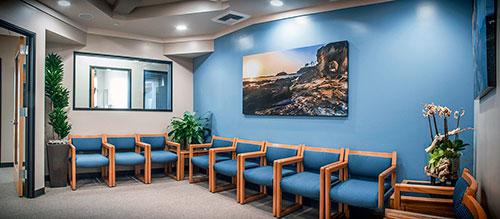 Our relocation in 2013 from Cerritos to Los Alamitos afforded us the opportunity to design a modern, state-of-the-art periodontal surgical office incorporating many features which assure our patients' safety, comfort and convenience. The move also positioned us closer to the patients of our referring dentists in the greater Long Beach and Orange County areas, yet still close to our Cerritos roots.
Our new computer system links with numerous insurance carriers for quick determinations of coverage and when possible, claims are processed electronically.
An innovative, new sterilization system has streamlined the sterilization process for the protection and safety of our patients and assistants.
Digital x-ray equipment eliminates long processing times and gives Dr. Melnick immediate access to the patients' current dental status. We provide duplicate copies of digital x-rays to our patients' dentists allowing them to discuss their patients' case soon after their consultation with Dr. Melnick.
We offer monitors in every treatment room for the patients' enjoyment
For your comfort during periodontal procedures, nitrous oxide sedation is available at an additional charge.
The color scheme and décor of our office reflects our proximity to the nearby beaches and provides a relaxing, attractive environment for our patients and staff.